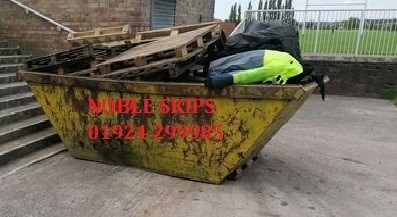 Saturday welcomed a  determined group, who set about clearing out some of the old clutter and bringing some spring sparkle to the changing rooms and  organisation to the bar store.
Noble skips had kindly supported the club and provided a skip which was soon filled. A big thank you to Chantelle from Noble skips and to Scott Cranmer for his help and support in making it happen.
We also want to thank ACT Roofing Ltd who supported the club with the scaffold to help repair the gutters on the clubhouse.
There is still more to do but the fantastic work achieved by the group at the weekend and has made a huge dent in getting ready for the new season.
A big Thank You Ray Scrafton, Adam Scrafton, Chris Wardman, Josh Carter, Rich Vasey, Mick Stanley, Chris Cooke, Pete Canning, Dave Mcneil, Neal Saynor, Gary Demaine & Ian Young we hope you enjoyed that well earned drink on the New Terrace.